Vietnamese coffee is traditionally prepared with dark-roasted, finely ground beans and infused with the velvety sweetness of condensed milk. Each puff delivers an aromatic and flavorful experience that mirrors the painstaking process of hand-grinding high-quality beans. Prepare to be captivated by the irresistible allure of this exquisite disposable vape. From the very first inhale, you'll find yourself unable to resist the temptation to savor every subsequent puff. With its robust and satisfying profile, it's the ideal companion to jumpstart your morning, offering a harmonious blend of strength and sweetness. Let Vietnamese coffee transport you to a world of unparalleled flavor and satisfaction.
Share
View full details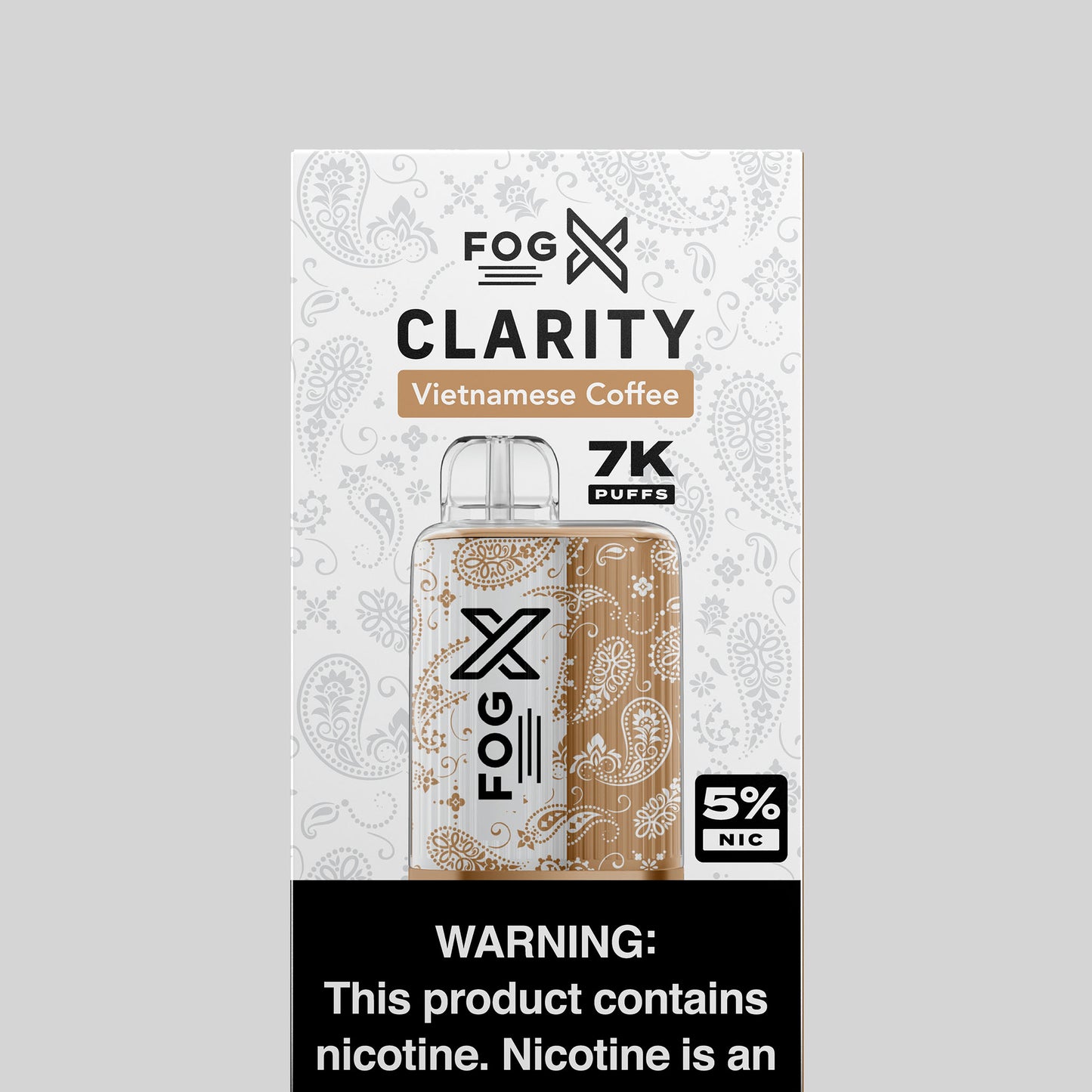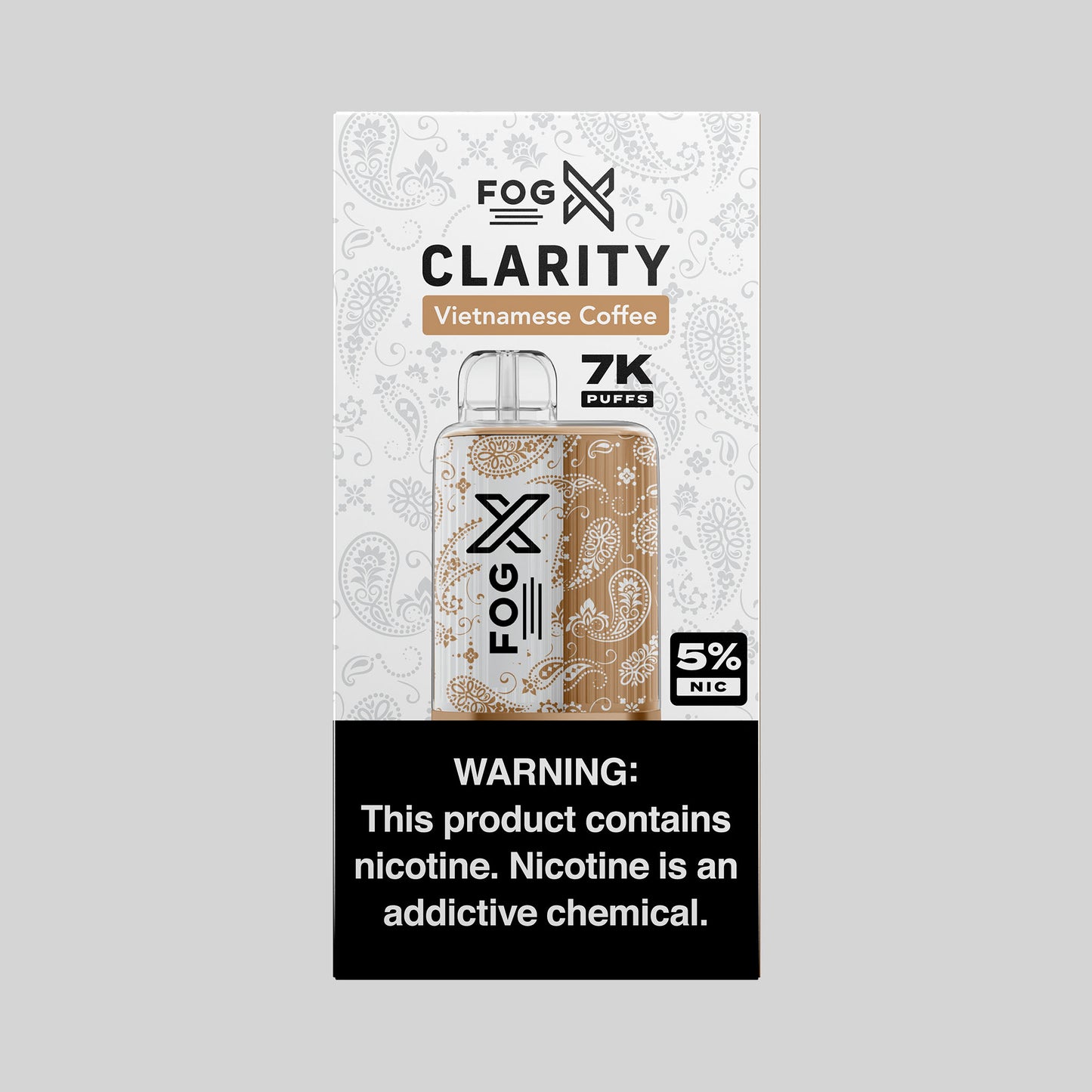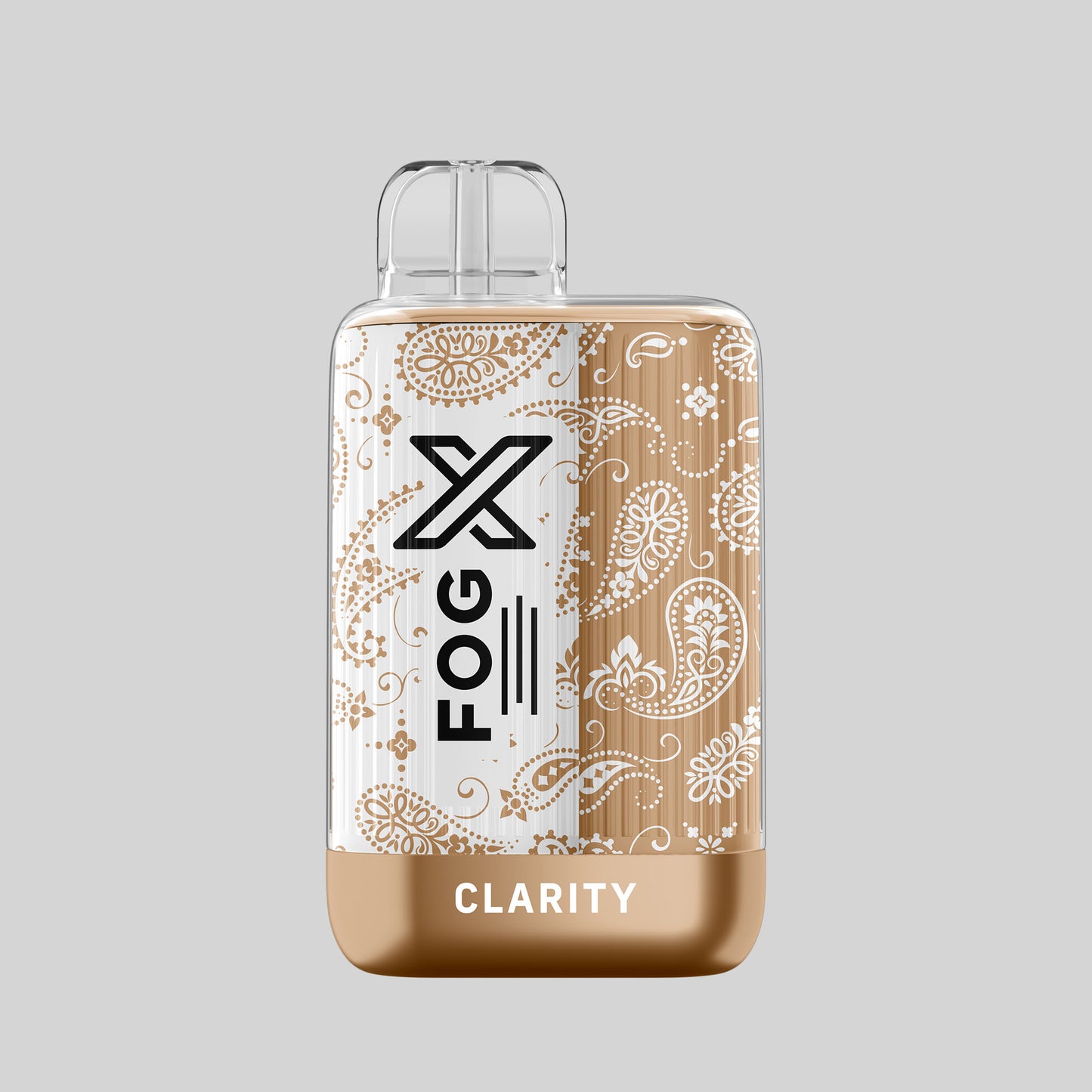 7000 Puffs

Get multiple days of usage.

Rechargeable

Charge it in minutes with a USB Type-C.

Salt Nicotine

Available in 0% and 5% salt nicotine.

Draw-Activated

Inhale to activate the device.

650mAh Battery

Built-in battery for longevity.

14mL Juice Capacity

Extended vaping with more capacity.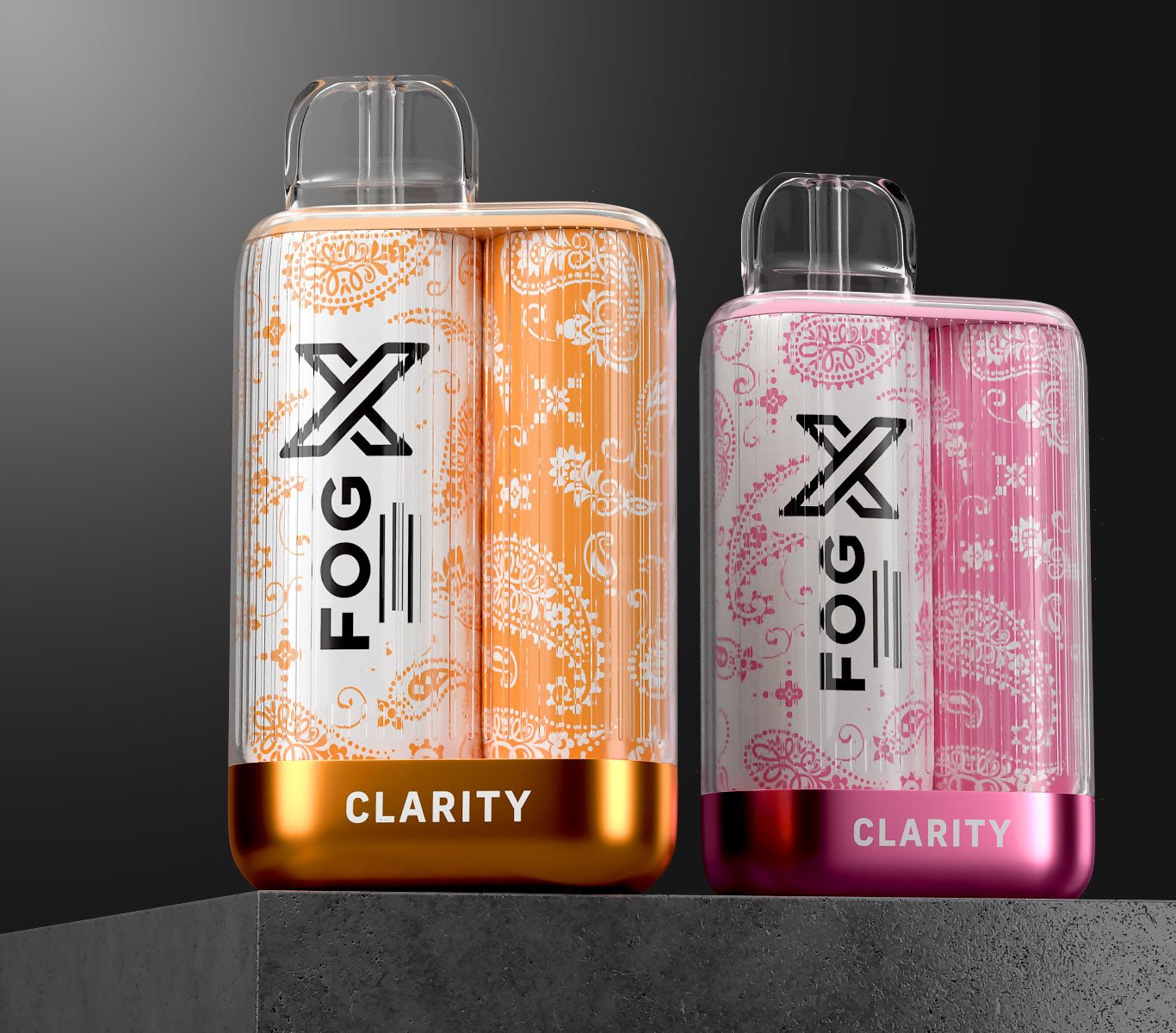 Enhaced Experience
Experience the ultimate vaping experience with the Fog X Clarity Disposable device, bringing you unbelievably smooth and satisfying puffs. With an impressive lifespan of approximately 7000 puffs, this is our longest-lasting device yet. With its powerful 650mAh rechargeable built-in battery, you can enjoy every last bit of e-liquid without worrying about running out. Plus, the USB-C port ensures the fastest charging speed possible, so you can get back to vaping in no time.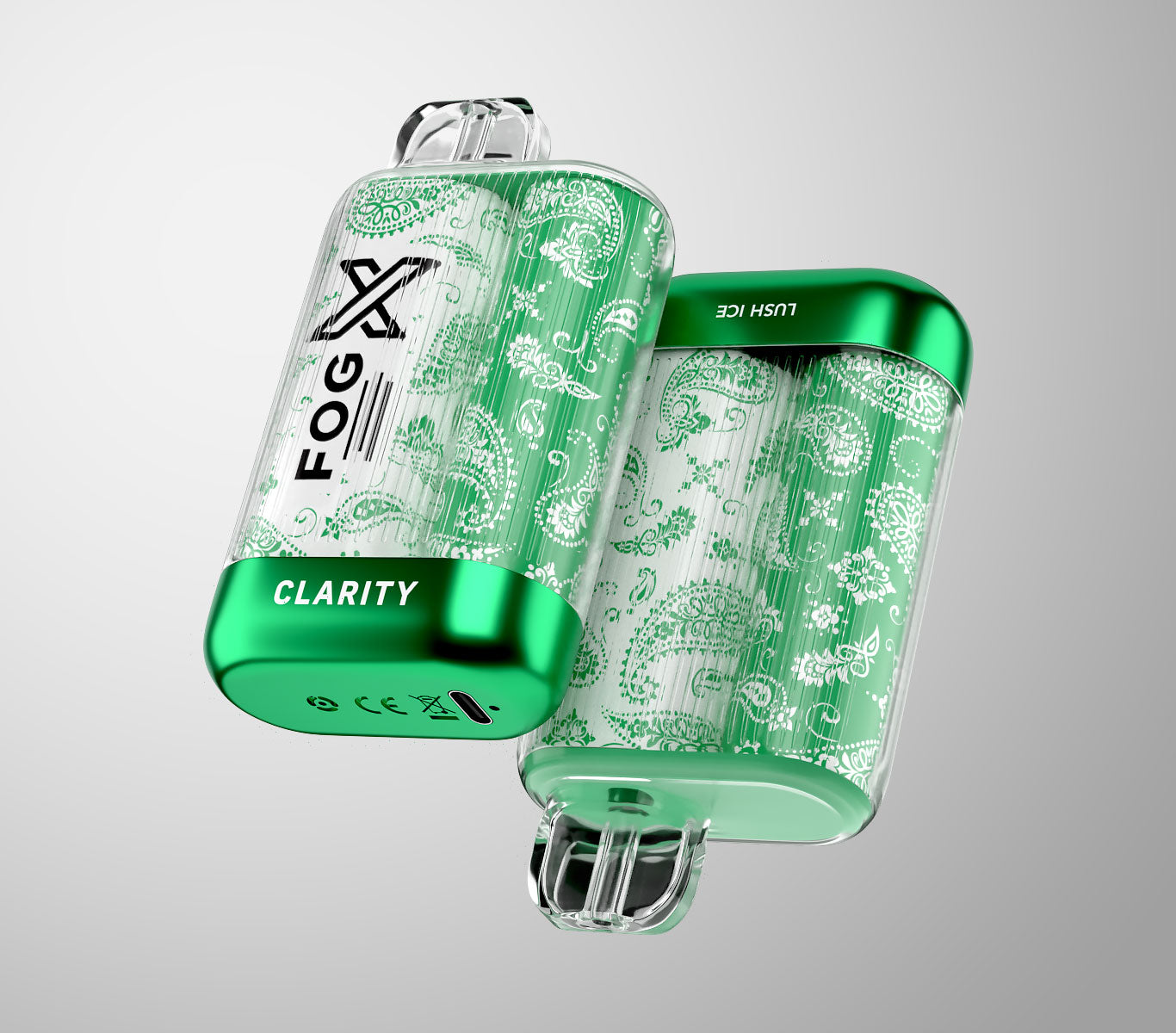 Impressive & Powerful
Despite its small size, it packs a powerful punch. What makes it even more impressive is the inclusion of a 14ml prefilled tank filled with high-quality 5% salt nicotine e-liquid. Clarity offers an impressive range of unique and exceptional flavors that cater to every individual's taste preferences. Prepare to be amazed by the unparalleled quality and tantalizing taste experience offered by Fog X Clarity. You can start using it right away without any worries about maintenance or constantly refilling e-liquid. It's the perfect solution for those who want a convenient and ready-to-use vaping experience.
Wholesale Inquiries
Our dedicated sales team is ready to assist you! Get in touch with us to discuss bulk orders of our products at competitive wholesale prices.
Contact Sales